A few weekends ago, I started cleaning out my fridge.  I found a box of grapes that had been in there  a while. They weren't moldy though.  Just kind of wrinkled.  I had no major plans for that day and it was a little cold.  In the past, I've considered making raisins from similar grapes, so I decided that it would be a good day to give it a try.  It's actually pretty easy.  First, you put an evenly-spaced layer of grapes onto a baking sheet.  In this picture, they're on paper towel for visibility. I spread them out more before baking:
Then, you put your oven on "warm", and put the grapes in for… several hours.  I checked on them every 45-minutes or so.  The first time I checked on them, they looked pretty puffed up, but hadn't split to let the juice out–so I poked each grape with a knife.  Approximately once every hour and a half, I'd pull the baking sheet out of the oven and turn each grape/raisin over to make sure no side got burned.
Some of the original grapes were more dehydrated than the rest, so they got "done" first.  I took them off the sheet, and put them into a bowl to show the result: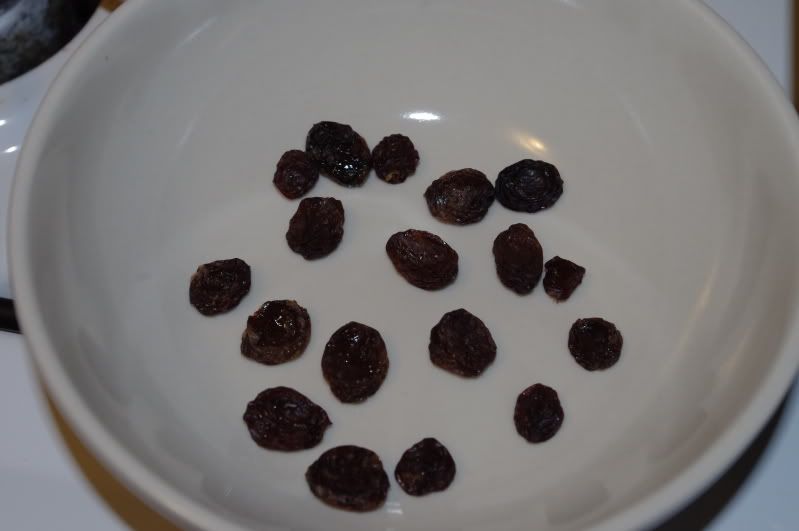 In the end, an entire bunch of grapes baked down to only 1/2 cup of raisins.  But they're tasty! I finally understand why grapes are a brown-purple too. It's because the sugar in the grapes gets caramelized in the making. At least, if you bake your grapes into raisins.  
I'm planning on doing this again with grapes that are sitting in my fridge chilling out right now.  It's the grape trio from Trader Joe's, so I'll end up with three kinds of raisins.  (I'm thinking I'll make oatmeal raisin cookies with them. Yum!) I might also try sun drying some raisins later this year if the summer is hot enough. We'll have to see what happens though! The weather gods were sending England's weather our way last year. If they get up to the same shenanigans this year, all bets of sun are off!